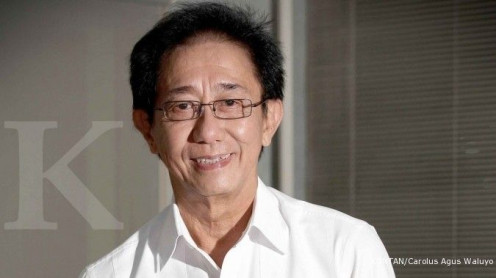 Indopora appointed as contractor foundation Hotel Tentrem II and Apartment Project
Jakarta. Tycoon from Semarang, Central Java, Irwan Hidayat continue expanding their business. One of the shareholders and Top Management of PT Industri Jamu dan Farmasi Sido Muncul Tbk is serious in developing the hotel property business in particular.
After building Hotel Tentrem in Yogya, he is ready to build a second hotel. According to Irwan, he deliberately build a second hotel Tentrem predict because the tourism business in the country increasingly coming writhing in 2019.
"2019 will be a surge of foreign tourists to Indonesia, we have to be ready," said Irwan to KONTAN, Tuesday (3/5).
Hotel Tentrem II will take a place in Semarang. Selection of Semarang, Yogyakarta as well as not just solely for the city became one of the destinations of foreign tourists. But there are sentimental reasons, namely to develop the city as the place Irwan raised. In addition, Irwan also see the results Tentrem hotel occupancy rates in Yogyakarta incoming fairly decent five-star category.
Irwan claims, this time, the average hotel occupancy is around 63% -65%. As an illustration, Tentrem Hotel was first built in 2010 on an area of ​​13,000 m², with 276 rooms and a total building area of ​​32,000 m².
Its location at Jl AM Sangaji, Yogyakarta. Especially for the second Tentrem hotel in Semarang, Irwan prepare up to Rp 1.09 trillion.
In addition to the hotel building, on an area of ​​8,400 square meters (m²), the plan Irwan wanted to build two property projects, namely apartments and shopping centers.
Iwan optimistic that this project would be sold because of its location in the heart of Semarang, which is about 150 meters from the Simpang Lima, one of the central area of ​​Semarang. Irwan plans to build hotels Tentrem Semarang began this year.
He said he has appointed enterprise specialized contractors to plug the foundation PT Indopora. As for the main contractor will be Irwan specify within the next three months.
While the apartment project, to be built with a capacity of 88 apartment units. The apartment is targeting the upper class because is sold at Rp 4.8 billion to Rp 6 billion per unit.
Irwan claim a positive market response. So he predicted prices could rise 10-11% rise ten months.
Source http://industri.kontan.co.id/news/pemilik-sido-kembangkan-tentrem-ii-dan-apartemen